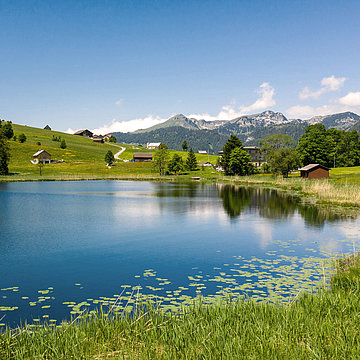 The scent of hay and mountain air
A mountain summer like in the good old days.
The summer wind on the mountains whistles soft melodies of joie de vivre. The seven Churfirsten line up like the spikes of a crown. Below them: deep blue mountain lakes, rolling hills, a perfect green world as far as the eye can see. And you at the heart of it all. Hiking, biking, relaxing in unspoilt nature.

5 minutes to the Klangweg
The popular walk with sound installations.

The only way is up
Get to the top in comfort with the cable cars.

Family paradise
Nature experiences and offers for young and old.

Free hire
E-bikes, backpacks and binoculars for your excursions.