Moving mountains
Where there is a wish, there is a way.
HIKING & WALKING HOLIDAYS IN SWITZERLAND
Put your best foot forward
You will be on the right path in the picture perfect world of Toggenburg.
If you are planning a hiking holiday in Switzerland, there are plenty of routes to choose from. Long, leisurely, steep, panoramic, challenging and family friendly. It is only a few steps to the famous Klangweg. Here, hikers can enjoy the sound of installations, while mountain climbers can scale the seven Churfirsten peaks. Short and long hikes to lakes and waterfalls, the Toggenburg High Trail and various other themed trails round off the hiking options around the hotel.
Your accommodation at the heart of it all
Your backpacking adventures begin in Stump's Alpenrose:
Just outside the hotel door, all trails lead off into the nature.

Klangweg sound trail
Only five minutes' walk from the house.

Guided tours
From observing wild game to mushroom excursions.

Cable cars
Get on and make light work of the mountains.

Themed trails
From the Legend Trail to the Detective Trail for puzzle fans.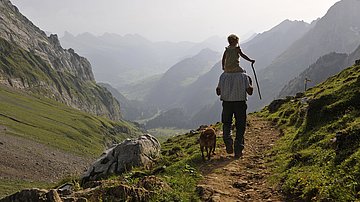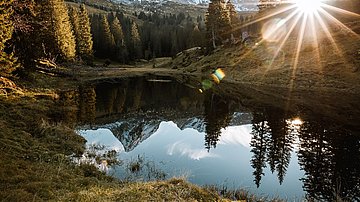 The Churfirsten are the landmark of our holiday region. Seven peaks to climb, six cable cars to ride and one starting point for an experience: Stump's Alpenrose.
Rita Jung – Chef de Reception