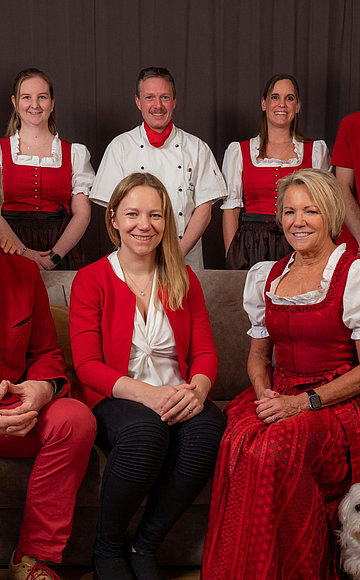 A family touch
When generations play together.
Stump's Alpenrose is a place where tradition and new impulses meet and resonate in harmony. Here, traditions move with the times – experience and young perspectives go hand in hand. Today, Roland Stump and his daughter Vivien are the fifth generation to run the hotel.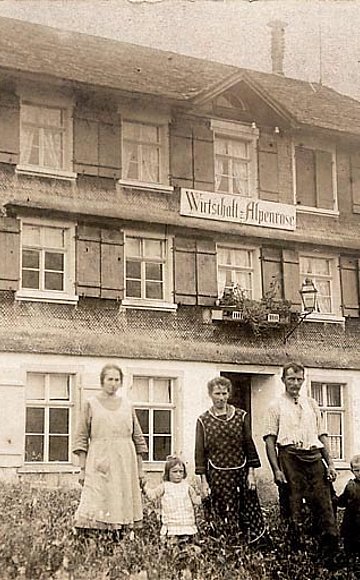 We never lose sight of our roots. Instead of ringtones you will hear the sound of cow bells, echoes from the cliffs and mountains and the sound of joyous heartfelt laughter. Authentic tones, sounds and singing belong to us like the seven peaks of the Churfirsten.
The Stump family
Running the house in the fifth generation
From embroidery to seminar location
In 1883, Stump's great-grandfather Anselm acquired the "Schwendi" property and built a house for his family with an integrated embroidery factory and a stable. In 1912, the company was expanded with a sawmill and the "Gasthaus zur Alpenrose" guesthouse. After his career as an international ski champion, Niklaus Stump transformed the guesthouse into the "Hotel Alpenrose", which his sons Birger and Roland Stump developed into one of the most renowned training and conference hotels in Eastern Switzerland in 1984.
A sound place to meet
In 2019, the decision was made to build the Klanghaus close to Schwendisee. This decision marked the beginning of the next era in the company's history. From 2025, our hotel will be an essential building block in the future sound campus around the Klanghaus.