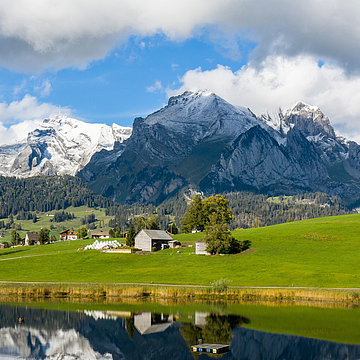 Setting off and arriving
The fastest way to the perfect world of Toggenburg.
Stump's Alpenrose is located next to the Schwendisee above Wildhaus in upper Toggenburg. You can reach us in about an hour from St. Gallen, Zurich or the Lake Constance area. If you like, we will be happy to drive you from the "Lisighaus" post bus stop to the hotel and back free of charge. We pick up restaurant guests from anywhere in the municipality and of course bring them home again.
From southern Germany
Via Bregenz and St. Margrethen on the A13 to Haag and take the Toggenburg/Wildhaus exit. Or via Konstanz to Wil and then turn off into Toggenburg.
From the greater Zurich area and central Switzerland
Take the A3 at Reichenburg in the direction of Rapperswil and then over the Rickenpass to Wattwil.
From eastern Switzerland
From St. Gallen to Herisau and continue over the Wasserfluh to Lichtensteig. Or drive from St. Gallen to Wil and turn into Toggenburg.
Address
Stump's Alpenrose
Vordere Schwendistrasse 62
Switzerland
9658 Wildhaus