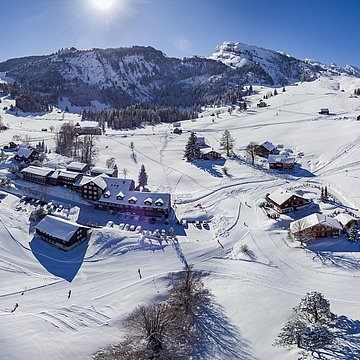 Winter is not a season, it's a celebration
Switzerland winter holidays
Winter holidays in Stump's Alpenrose usually start like this: Open the curtains and let the magical snow-covered mountain landscape greet you through the window. This awakens everyone's desire to discover this winter world on boards, runners or on foot and to warm up from time to time in rustic mountain taverns.

Stump's Laternliweg
Illuminated footpath around the Schwendisee.

At home in the ski area
Ski in, ski out on the Wildhaus slopes.

Ski pass discount
Special ticket for the Wildhaus cable cars.

Family area
Switzerland's most modern and safest family ride.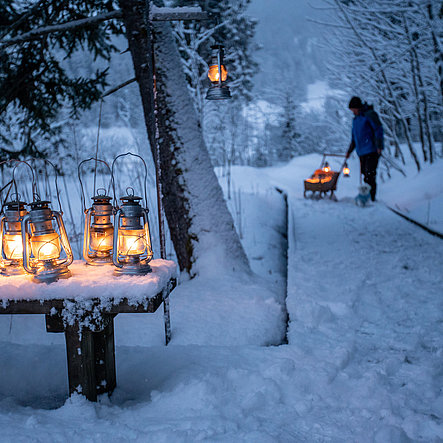 Stump's lanternway
Snow crunching under the feet
Soon it's time - Stump's Laternliweg lights up for you again!
Opening on 01 December 2023 on the terrace of Stump's Alpenrose - with mulled wine, punch and hot chestnuts.

Opening hours:
01 - 16 December 2023 every Friday and Saturday.
22 December 2023 to 06 January 2024 - Daily
12 January to 16 March 2023 - every Friday and Saturday

The Laternliweg will be lit from dusk until approximately 9:00 pm. It will remain closed during storms or when the path is icy. For information contact Stump's Alpenrose: +41 71 998 52 52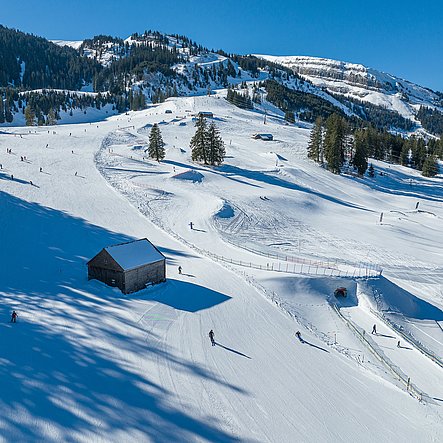 Skiing
Slopes upon slopes
In the ski areas of the upper Toggenburg, the pistes stretch out before you like a white carpet. There are also themed sound slopes, fun parks, magic carpets, powder runs and children's paradises. And Stump's Alpenrose is right at the heart of it all!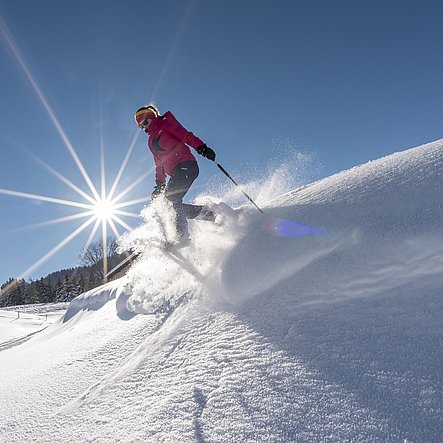 Snowshoeing & Winter hiking
Over a sparkling surface
Starting from the hotel, make your way over powdery slopes on snowshoes or trudge along crunchy winter hiking trails on foot. Truly atmospheric: Our illuminated Laternli trail around the shores of Schwendisee.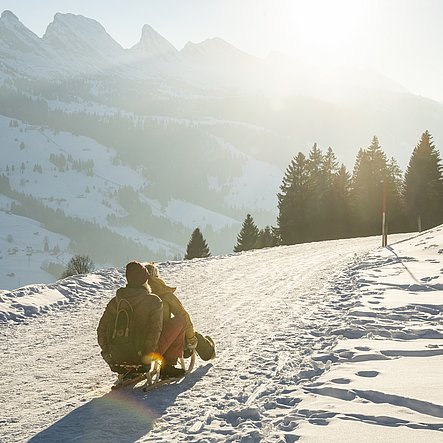 Tobogganing
Downhill on skids
Countless slopes, tracks and little roads: Toggenburg is one big tobogganing paradise! Here a track through the nature, there a groomed piste, sometimes with a climb to the top, sometimes with a comfortable train ride. The 1.2-kilometre-long toboggan run from Oberdorf to the valley is particularly fast.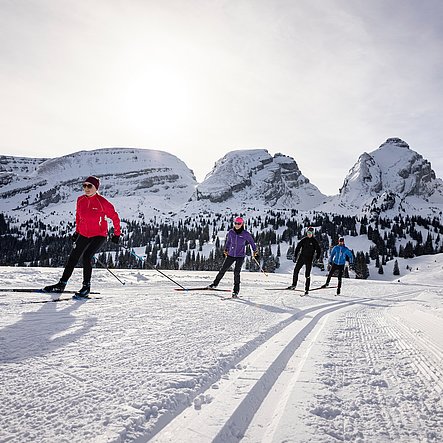 Cross-country skiing
On the trail of happiness
Up and down the valley you'll find 80 snow-sure and varied kilometres of cross-country skiing trails. Cruise along by the river, over panoramic plateaus or in challenging terrain. Come to the reception, and we will tell you where the best places in Toggenburg are for cross-country skiing.