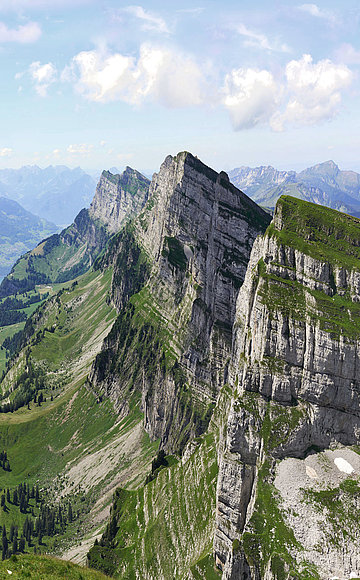 Pools and mountain lakes
It doesn´t get any w(better) than this.
Four idyllic mountain lakes invite you to splash around in Toggenburg. One of them - the Schwendisee - is only a stone's throw away from the hotel. The region's pools are also ideal for cooling off and are equipped with diving towers, paddling pools, slides - and mountain views! Those who prefer hiking by the water will find paths along the Thur, to the Thur waterfalls or to spectacular gorges.
It can also get quite hot in Wildhaus from time to time. When temperatures rise there is nothing nicer than a dip in the cool water of our lakes, rivers and swimming pools.
Barbara Schlochow
Wellness manager
The Schwendiseen lakes
You can swim for free in the front and larger of the two Schwendiseen lakes. A wooden footbridge helps you get in and there is a raft in the middle of the lake to take a break on. A walking path and nature trail leads around the Schwendisee, and provides information about the regional flora and fauna. The well-known Toggenburg Klangweg sound trail also passes by the lake.
The valley of the Thur
The Thur rises in Alpstein and winds its way through Toggenburg as a source of life for the valley. The Thurweg trail stretches over 60 kilometres from its origins on the Säntis over waterfalls, along secluded spots, through deep gorges and wide plains. Stages can be divided as desired.